11.11 DOUBLE ELEVEN
Time is 11/01 - 11/11 PDT. The biggest discount event of this year.
3D Printer
Module Board
Filament
Upgrade Tool
Buy X Get Y
BLACK FRIDAY
Time is 11/20 - 11/26 PDT. The biggest discount event of this year.
Motherboard
Extruder
Driver Board
Screen
Buy X Get Y
Code is
Coming soon
Limited 300
Code is
Coming soon
Limited 100
Code is
Coming soon
Limited 100
Code is
Coming soon
Limited 50
Buy more than $1000, Get for Gifts
Over $1000, get a BL Touch
Over $1500, get a TFT35 E3 V3.0
Top 3 reward a MicroProbe
Wheel Game to Win Prizes
Free 3D printer, 90% off coupon...
Coming soon


BIGTREETECH Octopus Pro V1.0 Control Board/ Mainboard
Firmware link: Click here
【Main Control Chip】The main control board uses 32-bit ARM-level Cortex-M4 series STM32H723ZE/ STM32F429ZE / STM32F446ZE chip with a frequency of up to 168MHz and the flash is 1MB.
【Support 60V Input】Supports up to 8 3D printer motherboards with a maximum 60V stepper motor. The motor drive power supply supports up to 60V input (only for the motor drive power supply).
【6 Controllable Fans】Up to 6 controllable fans, two normally open fans, and both support power supply voltage, 12V, 5V options.
【Update Firmware: Klipper/Marlin/RRF】Supports firmware update via DFU mode. This is where the firmware is sent to the board directly from the PC and does not require a bootloader however this method is not recommended for novice users as discussed later in this document.
【Level conversion IC】Supports proximity sensor, jumper optional pull-up resistor, supports more models, supports BL Touch.
Important Update:
Octopus Pro (H723) has a unique feature with its STM32H723ZET6 chip pins. When the chip enters DFU mode, the HE0 and HE2 will immediately start working. To prevent any damage or safety hazards resulting from prolonged heating of the heater cartridge, it is highly recommended not to enter DFU mode while the motherboard is powered by a 12/24V power supply.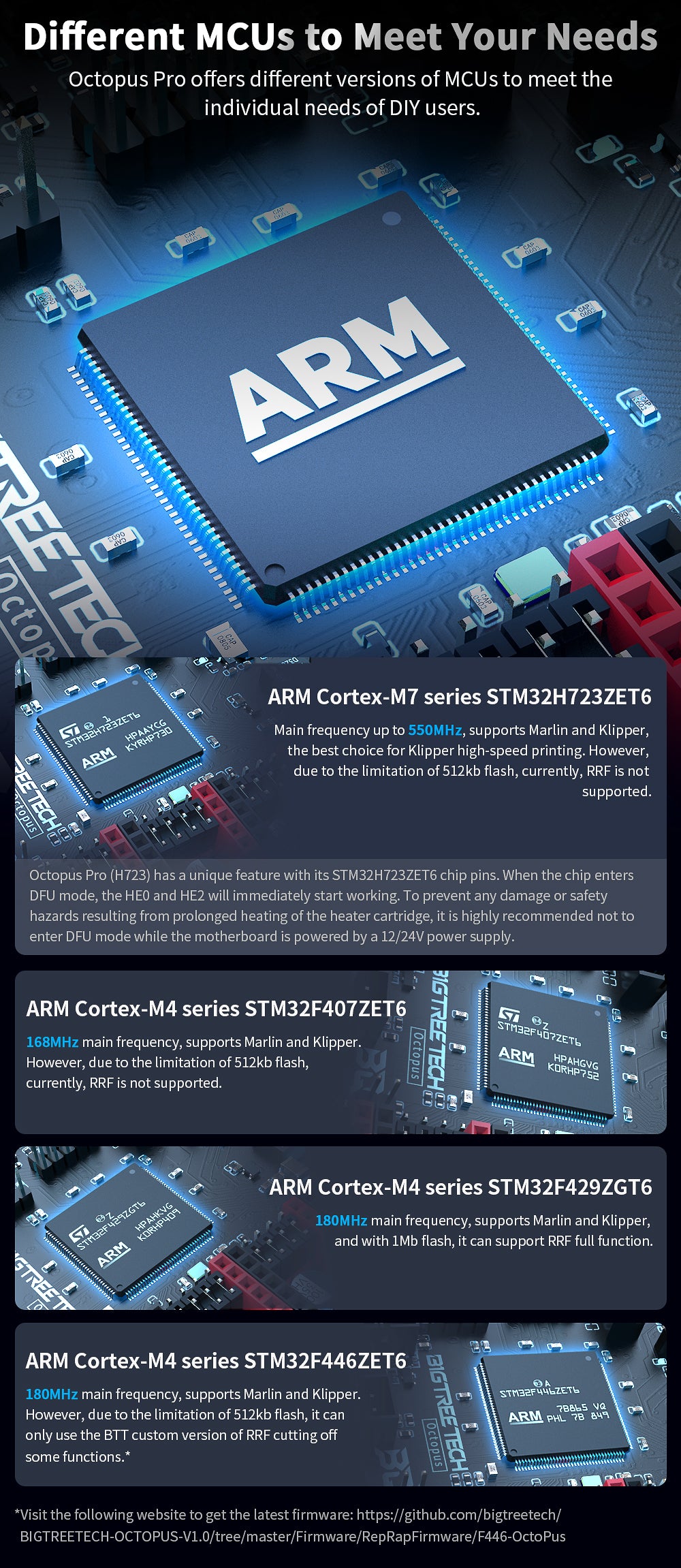 Octopus pro
Octopus pro very nice board good quality
All ordered items received in good shape.
The double pulley mk8 was not the type I had ordered, the one I received had a single pneumatic joint and I ordered one with dual pneumatic joint.
Now to find the time to get everything installed.
Good Board but..
The Board ist working good, perfekt for Corona 2.4 but the documentation for CAN could bei better
They delivered as promised.
I ordered right before Christmas and had it shipped from China as the U.S. store was out of stock. It did take awhile (which I expected), but they were prompt in getting back with me when I asked for a tracking number. Arrived in good shape.
Worthy purchase
Very good board although documentation could be better.
EASTER SEASON SALE
The biggest deal of 3D printers | Join the printing contest to win prizes | Surprising group buy price
Learn more