Product Short Description:
BIQU Orbiter V2.0 is a high-precision direct drive extruder with the newly redesigned version, using an LDO motor.  
Features:
Shorter drive gears (11mm): This feature reduces the size and weight of the product while maintaining functionality. It saves space and makes it more compact.

Hardened filament drive gears: These gears ensure durability and longevity, making the product suitable for long-term use.

Weight reduced to ~135 grams: A lightweight design is beneficial for portability and minimizing the strain on your 3D printer's components.

Smaller, more compact dimensions (11.6% shorter): This feature complements the reduced weight and saves space, making it easier to integrate with various 3D printers.

New motor design with ~40% increased pushing force and improved acceleration performance: This enhancement directly impacts the printing speed and quality, offering a competitive advantage.

Filament path closer to the extruder center for balanced design: A more balanced design improves compatibility with different 3D printer models, enhancing versatility.

Stainless steel filament exit guide with 0.2-0.3mm clearance to drive gears: This ensures a smooth filament path for better printing results and extreme wear resistance.

High-temperature resistant injected housings (GPA12): Resistant materials are essential for reliability and safety, especially when dealing with high-temperature printing.

Machined PEEK secondary drive gear sleeve: Precision machined components contribute to smoother filament feeding and improved reliability.

Tension mechanism with grab screw design (Captive Grab Screw): This feature simplifies tension adjustment, making it more user-friendly.

Mounting screws in line with filament exit path: Improved housing stiffness and easier mounting facilitate quick and hassle-free installation.

Perfectly aligned filament path: Ensuring a straight and accurate filament path minimizes printing issues and enhances overall print quality.

New smaller and better PTFE input coupler: The upgraded coupler improves the overall performance and reliability of the extruder.

Motor position rotated by an additional 10 degrees for easier maintenance and assembly: Simplifying maintenance and assembly reduces downtime and enhances user-friendliness.

Filament sensor add-on with auto-load and unload button: Adding a filament sensor and an auto-load/unload feature enhances the user experience and prevents printing interruptions.

Numerous small changes to improve mechanical accuracy and design aesthetics: These minor improvements collectively contribute to the product's overall quality and visual appeal.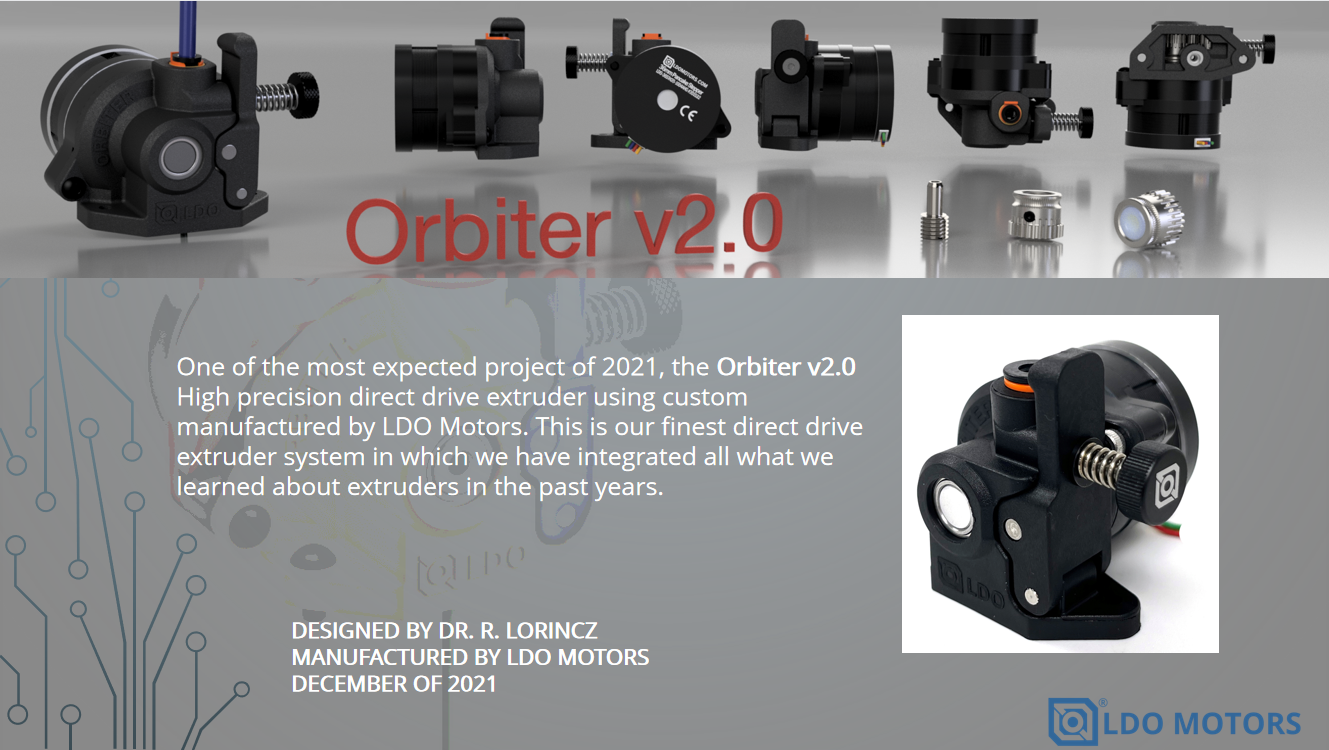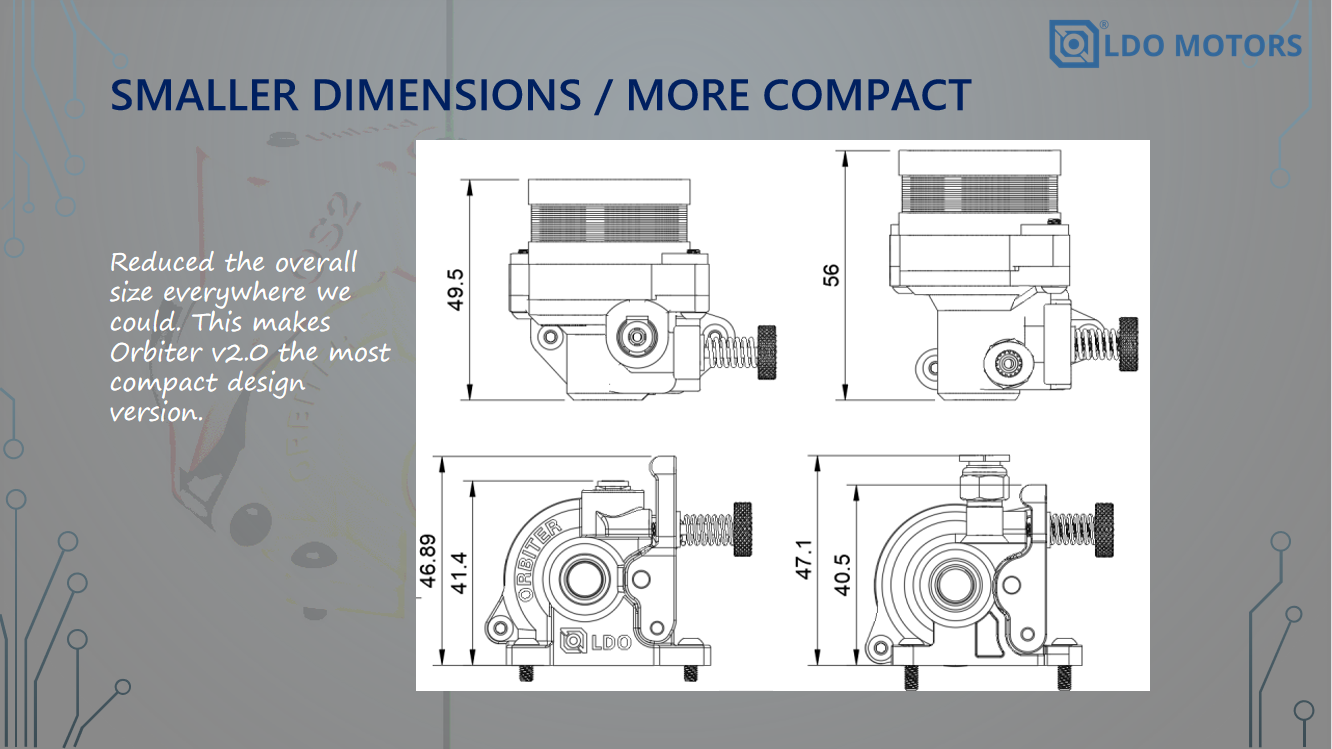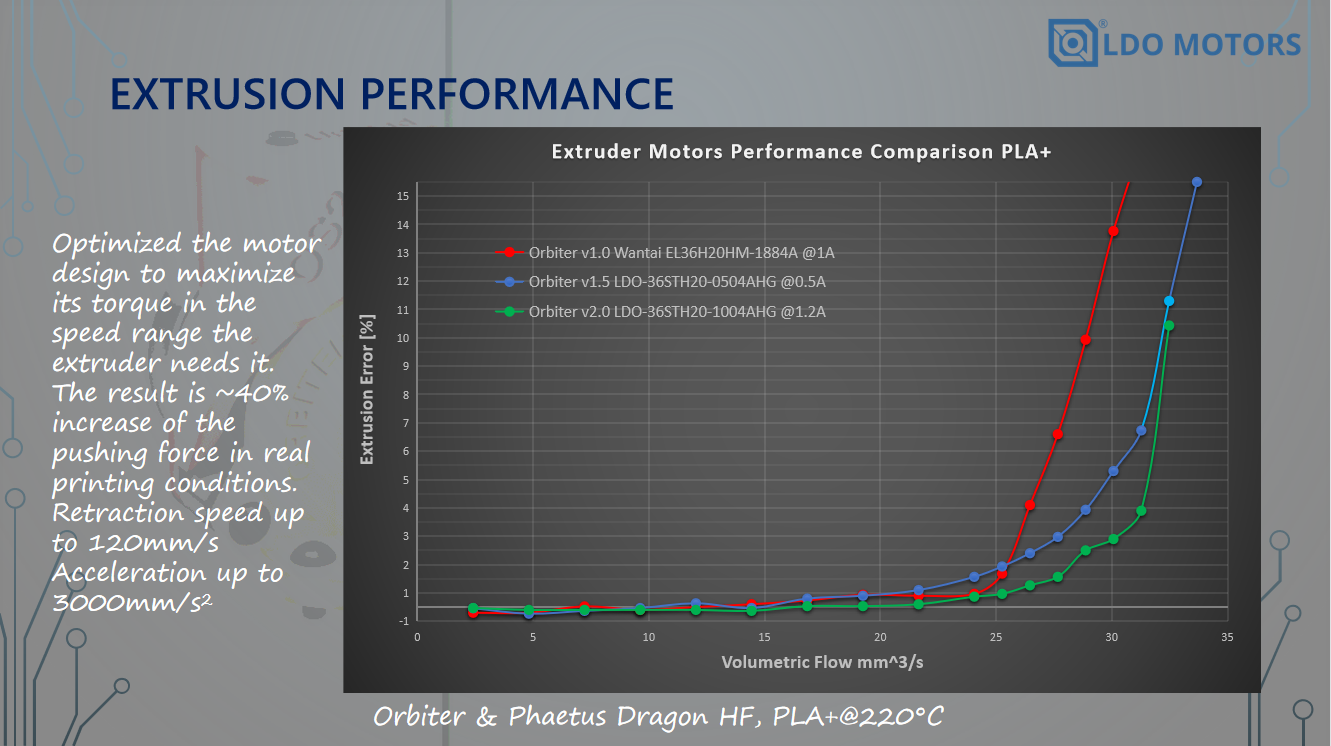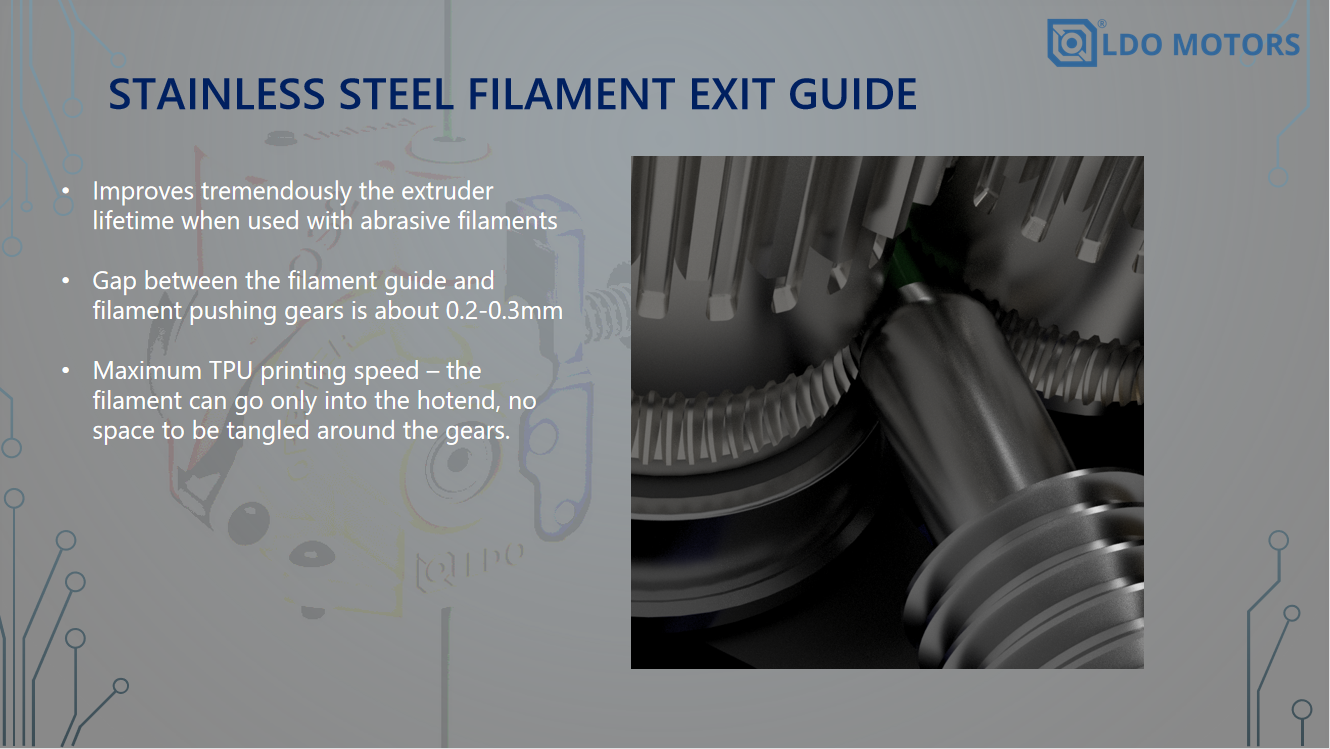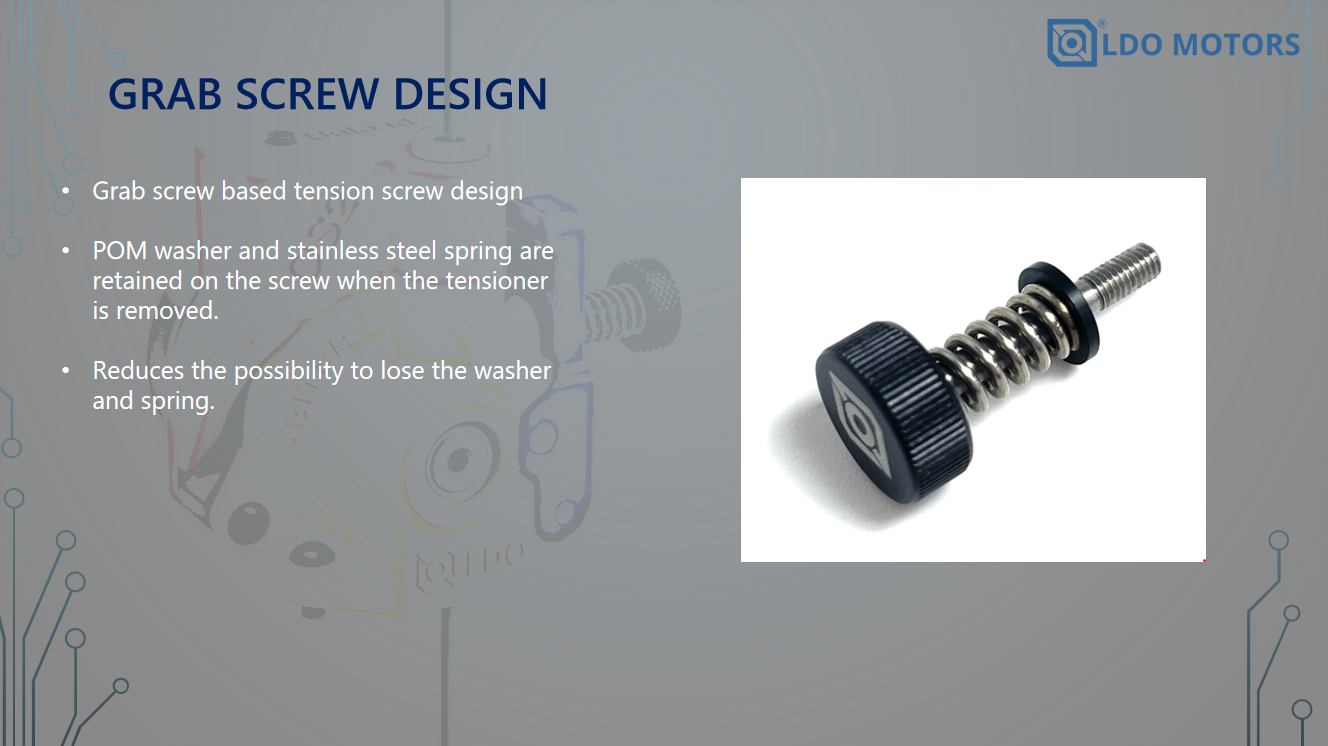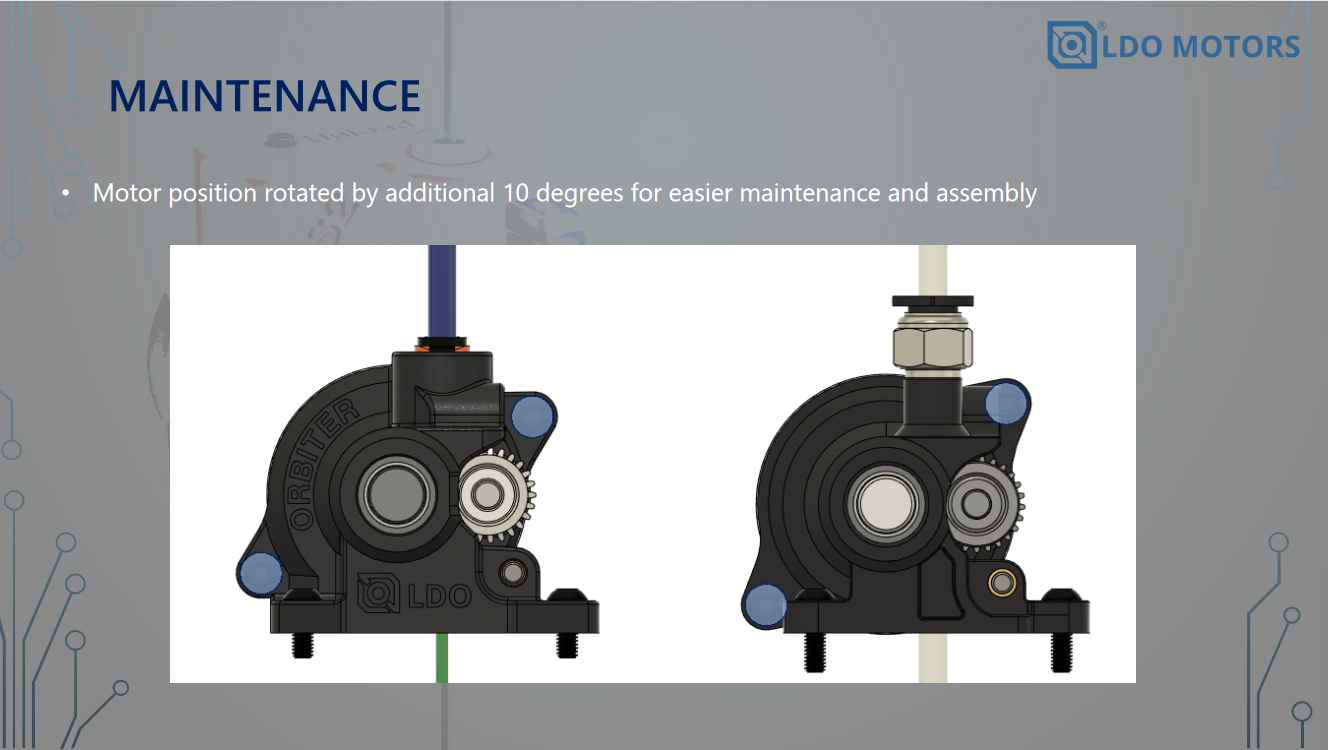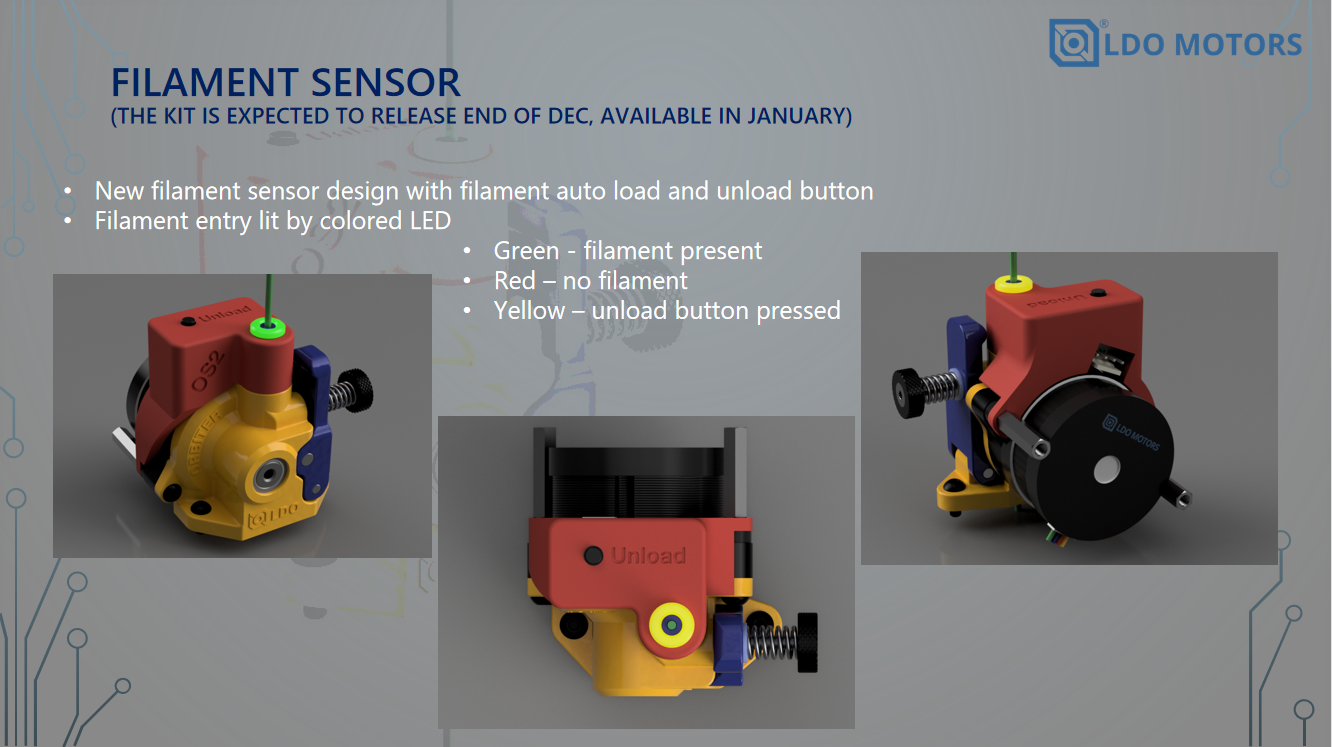 REVIEWS
Direct Drive on Anycubic i3 Mega S
Great little extruder that works really well.
Wanted a small lightweight direct drive system on the i3 Mega so mounted the Orbiter V2.0 on a X-Carriage MK4 with a E3D V6 Revo Hotend.
Running standard Mega Firmware with settings entered through Octoprint.
All went smoothly and the end result is a excellent quiet and fast extruder.
Have 2 Ender 3's with H2 extruders one a Revo.
A Really worthwhile upgrade.
Thanks Biqu.
Great Extruder.
Great extruder that works very well. Has plenty of torque and great grip strength. Also EXTREMELY small and lightweight. I knew it was small when I bought it, but I didn't realize how small. To put it in perspective, the entire assembly with the extruder and stepper is about the size of a BMG extruder without a stepper and weighs about the same as a pancake stepper without an extruder. There's really only 2 concerns you might have with this. #1, the motor can't run in stealthchop mode, so if running high speeds and extrusion rates, sometimes it makes a slight buzz, but if you're standing more than 3-4 feet away, you can't hear it, and unless you have a crazy quiet printer (like I do) you aren't even gonna notice it. Only other concern is you definitely don't want to be conservative with the spring tightness, as too little tension will not grip the filament properly and will shred it. Now as for the gears, I would HIGHLY recommend the 2.0 over the 1.5. The 1.5 if I'm not mistaken uses bmg gears compared to the custom made gears in the 2.0 which are nearly double the size. My last thing to note is that it has a VERY tightly constrained metal filament path. This means if you don't melt the end of the filament perfectly, I have had some trouble getting filament out. Pretty much, I would just use a gcode command to slightly push the filament in and rapidly pull it out while the hotend is hot, or just manually do it. Otherwise, great extruder though.
Great hardware
After replacing the extruder, the printing improved significantly. Complete satisfaction.
very good
Consistent and accurate extrusion. My print quality got better instantly.
Recommended
Discount Code FAQ
1. How do I use the discount code?
Copy the discount code from the product page,and then apply the discount code at check out.
2. Can I redeem multiple discount codes?
No. Discount codes cannot be combined. Only one code can be applied per order.
3. Why is my discount code invalid?
1)The discount code is not applicable to the specific items you want to buy
2)The discount code wasn't entered correctly
3) The discount code has expired
4) The discount code is not from BIQU store
If you have any questions, please feel free to reach out to our customer service team info@biqu.equipment
Fast, Free shipping on orders over USD $49
180-Days Hassle-Free Warranty
We accept credit cards, PayPal, Apple Pay
Lifetime Customer Support
Live Chat or Email
Newsletter
Subscribe to get the latest special offers, free giveaways, and once-in-a-lifetime deals from BIQU.