Quick Changer of Hotends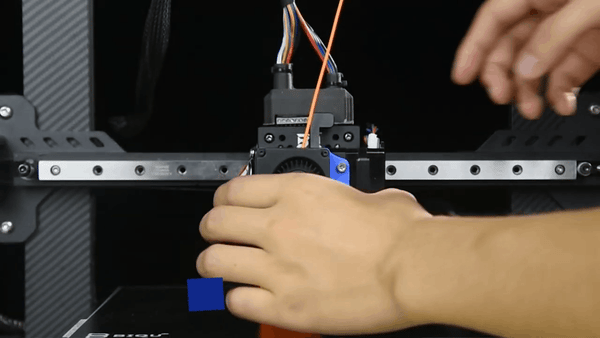 Crab Can + H2 500C and PT100 (70W)
Hi , can connect pt100(70w) 2 pin to Hermit crab can ?? Can Hermit Crab Can use PT100?
Hello! The thermistor port and heating rod port on the hermit crab do not support it. If you want to use it, connect the thermistor and heating rod to the motherboard. Hermit crabs can support the use of PT100.
Hermit Crab Rapid Tool Changer for Extruder Hotend Quick Change
install Crab CanBus in CB1?
How to install crab CAN bus in CB 1 OS? I have Adapter board 1 and 2 connected, but CB1 does not see the CANbus. thanks for the help
Einfach nur gut
nach dem mein Anycubic Chiron schon eine weile nicht mehr richtig gedruckt hatte habe ich mich entschlossen diesen zu überarbeiten und etwas zu piepen. als erstes fing ich an und wollte nur den Druckkopf gegen einen Direkt extruder tauschen und entschied mich dan zu dem BIQU H2 Revo.
dabei hatte ich natürlich das Problem das der neue extruder nicht mit dem alten kompatibel ist und so kam ich auf dieses kleine Wunderwerk der Technik, und da ich der Meinung bin wenn ich eh umbau dann richtig habe ich noch gleich das BTT Octopus v1.1 und MGN12H Schienen dazu Spendiert.
nach einigem Tüfteln hatte ich das board in sein neues zuhause Transplantiert, die Din rails montiert den Hermit Crab montiert und angeschlossen und natürlich auch den Druckkopf angebracht.
nach dem ich die Firmware zusammengebaut Hatte, ich verwende Marlin 2.1.2, habe ich nach einigen kurzen Feineinstellungen bereits bessere drucke zutage gebracht als vorher im Original Setup.
uzt arbeite ich daran einen Dremel adapter für eine der Toolplaten auf Cura zu entwerfen damit ich den aufgaben Bereich weiter ausweiten kann.
ich Hofe das dieses Kurzreview dem einen oder anderen hilft und anspornt es auch mal zu probieren
Grus Thorsten aus Nord- Deutschland
Ps Schreibfehler dürft ihr Behalte ;)