Quick Changer of Hotends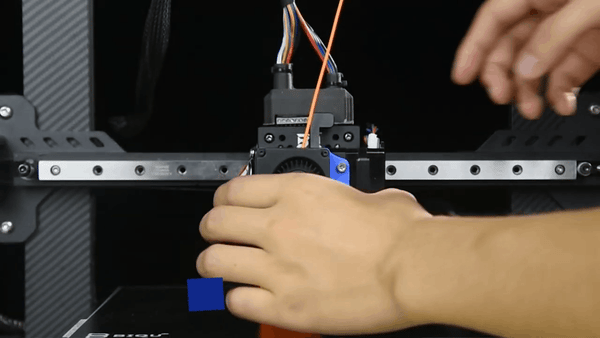 REVIEWS
Does the Crab Can version support the H2O 500°C extruder?
Does the Can version or standard version support the H2O extruder? Or both?
can wiring without usb-c?
hi, please tell me if/how it is possible to wire for can connection to hermit crab *without* using the usbc cable? are the can input pins available anywhere on the hermicrab base board?
Hello! Thanks for your comment, hermit crabs do require a USB C connection. I hope you found this helpful and feel free to contact us if you have any further questions!
Its a good product but it's would be better with more pin for termistor or cartridge hotend for exemple set a pellet extruder or silicone extruder. I would like to set a pellet extruder with tow thermistor in my case.
Was a bit hard to find complete documentation on how to wire it to a Manta M8P v1.1
The nice thing about all this is that once you get it to work, it's amazing.
Here's a tip for the CAN link between the M8P v1.1 and the Hermit Crab CAN Tool Board (aka you don't need the pi can hat):
https://github.com/bigtreetech/Manta-M8P/issues/30#issuecomment-1603874462
Question..
Hello, this isn't a review because I haven't purchased one yet, that being said, I love the design and functionality of it. It looks amazing and looks f good quality. Only time will tell. I want to purchase one for my Ender 5 s1 and I'm not sure if it will fit.. if someone from the hermit crab team would kinky respond to this "review" or email me back I would greatly appreciate it..
Hello! Yes, They can be used together. I hope this is helpful.
Discount Code FAQ
1. How do I use the discount code?
Copy the discount code from the product page,and then apply the discount code at check out.
2. Can I redeem multiple discount codes?
No. Discount codes cannot be combined. Only one code can be applied per order.
3. Why is my discount code invalid?
1)The discount code is not applicable to the specific items you want to buy
2)The discount code wasn't entered correctly
3) The discount code has expired
4) The discount code is not from BIQU store
If you have any questions, please feel free to reach out to our customer service team info@biqu.equipment
Fast, Free shipping on orders over USD $49
180-Days Hassle-Free Warranty
We accept credit cards, PayPal, Apple Pay
Lifetime Customer Support
Live Chat or Email
Newsletter
Subscribe to get the latest special offers, free giveaways, and once-in-a-lifetime deals from BIQU.