Product Description:
The HDMI 5 & HDMI 7 were developed by the BIQU technical team specifically for users of 3d printers using the Klipper system. It can work with Raspberry Pi4, Manta M8P+CB1, Manta M4P+CB1, and other mini PC. 
Key Features:
Optional HD IPS screen. The resolution of the 7-inch screen is 1024*600, while the 5-inch screen is 800*480. Adopt IPS capacitive touch screen, support 5-point touch.

Plug and Play. Simply connect the screen to the device via the HDMI port and power the Type C port to make it functional without installing any drivers. This screen is great for 3d printer users to DIY their projects, and it can perfectly be compatible with the Manta series motherboard plus CB1. Let it add a more seamless visual experience to your printer system.

Adjustable brightness and display direction. You can increase the brightness via the Ks1 button, Ks3 for decreasing, and Ks2 for 180° display direction adjustment (Refer to the following product detail image).

Support audio output. Built-in audio decoding circuit, supports 3.5mm headphone jack audio output. 3.5mm audio interface transmits the audio signal without noise and current, giving you pure and delicate sound.

4pin XH2.54 breakout port. The 4-pins XH2.54 breakout port allows custom connection via USB protocol, as well as screen independent power (DC 5V), giving users more DIY options.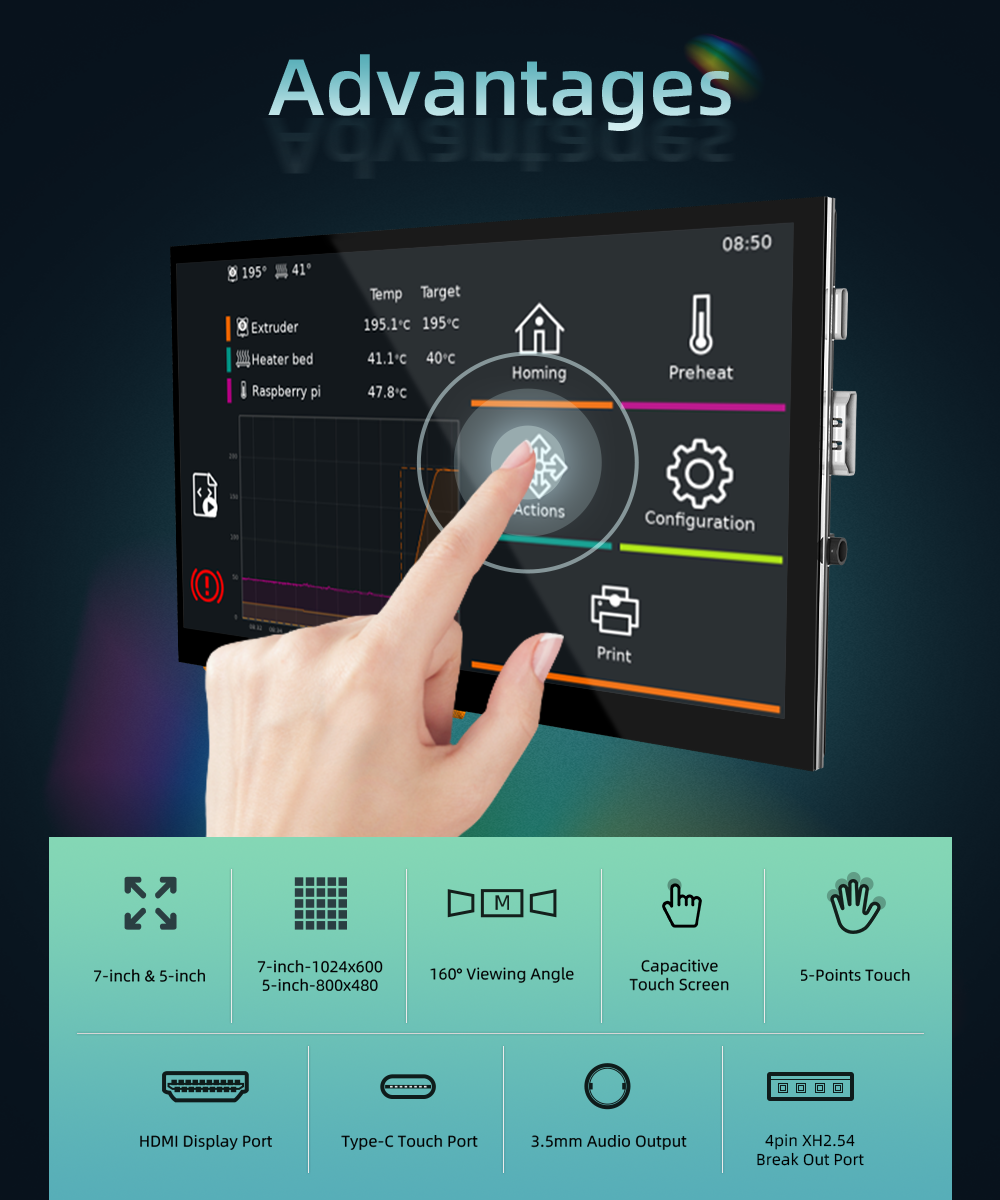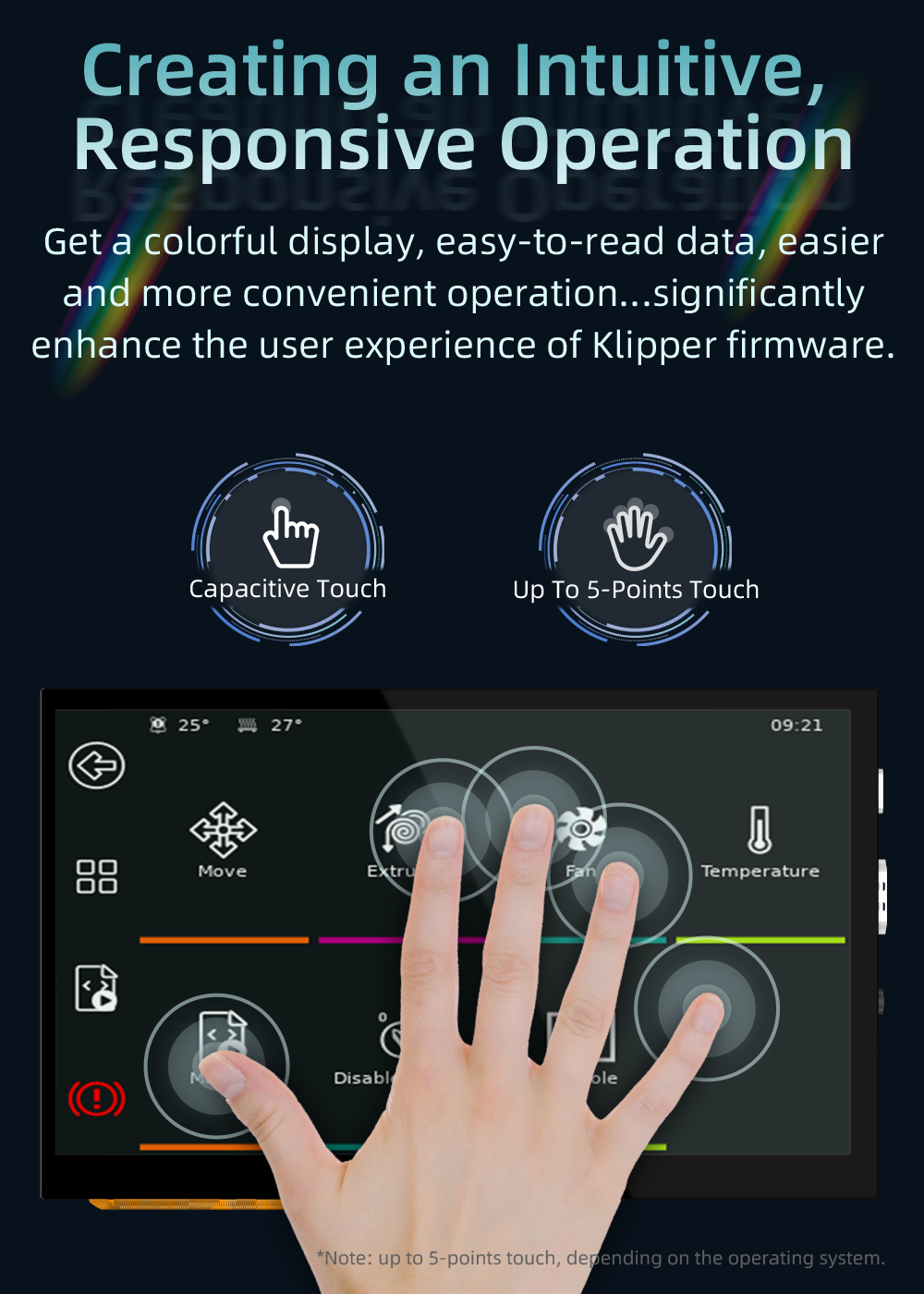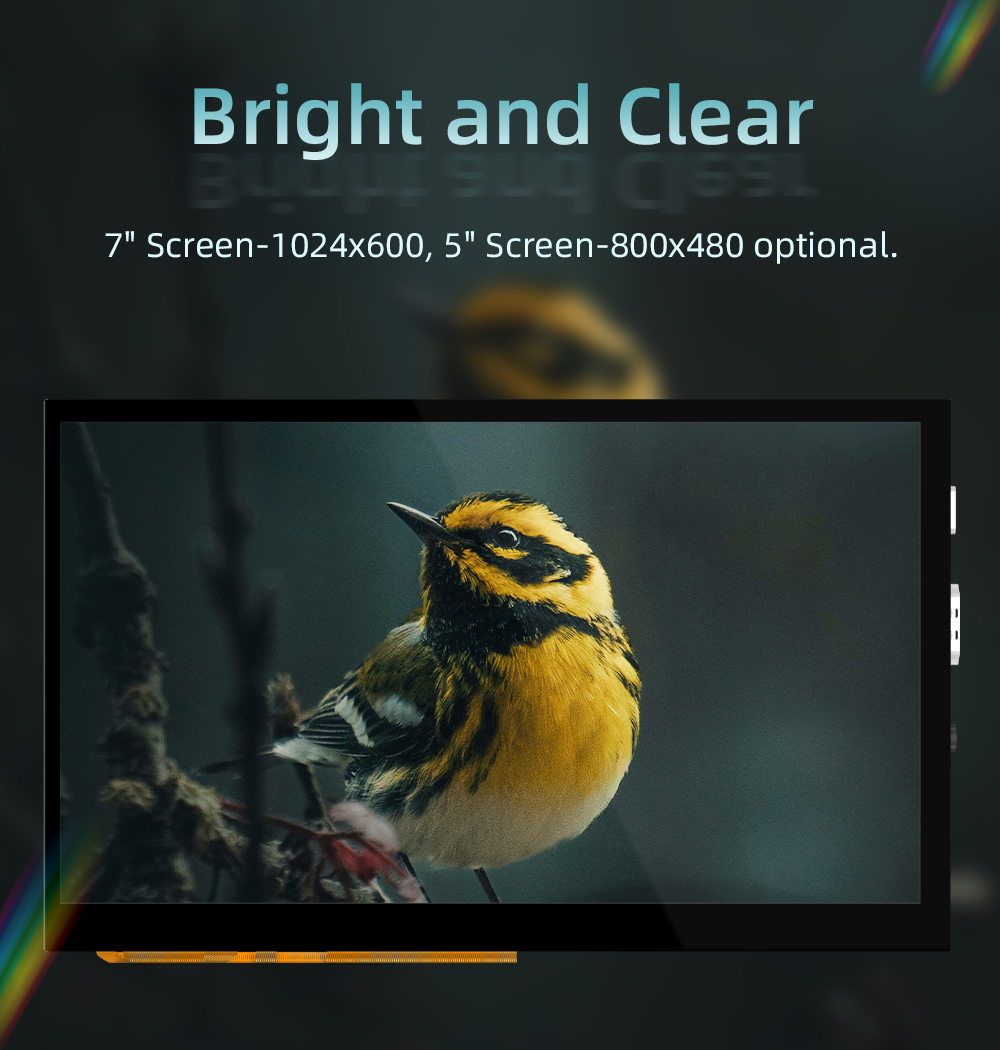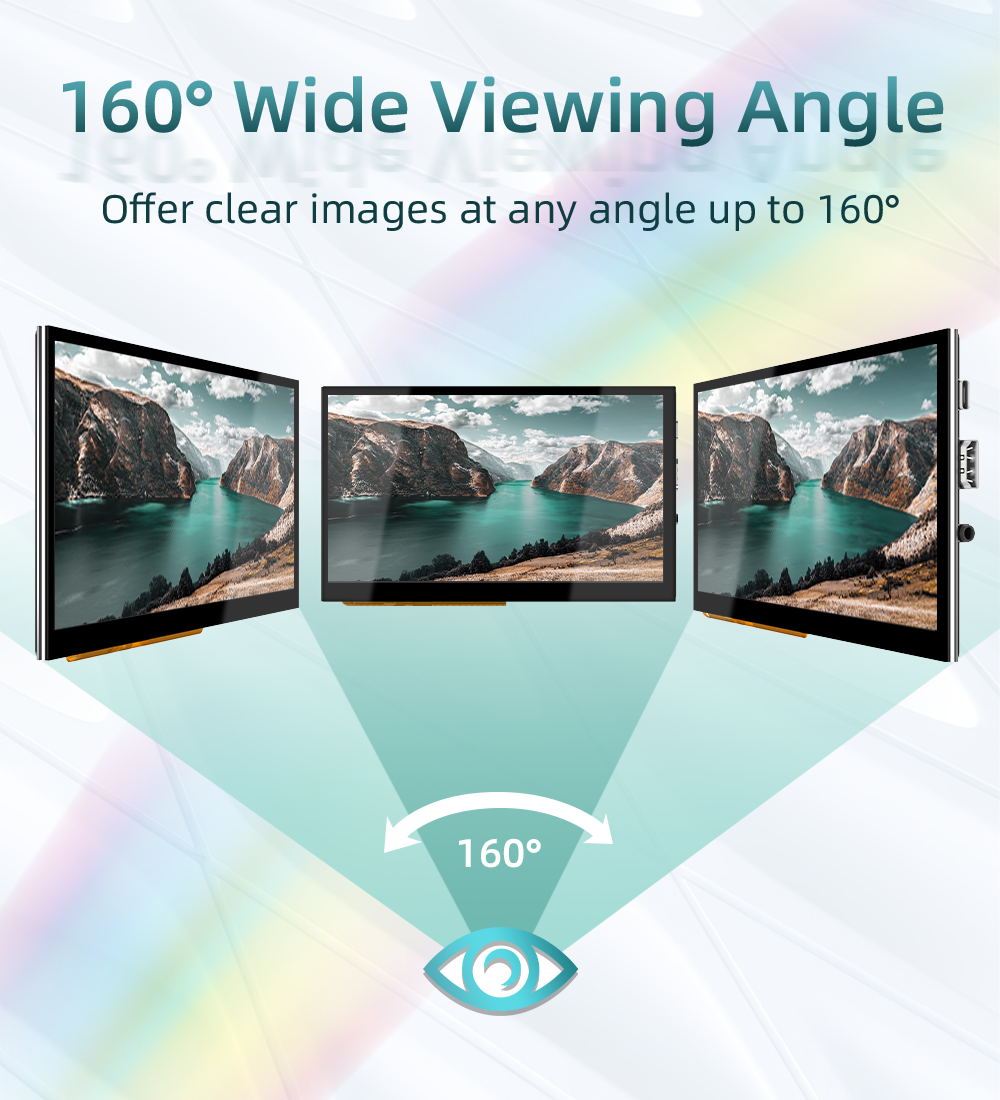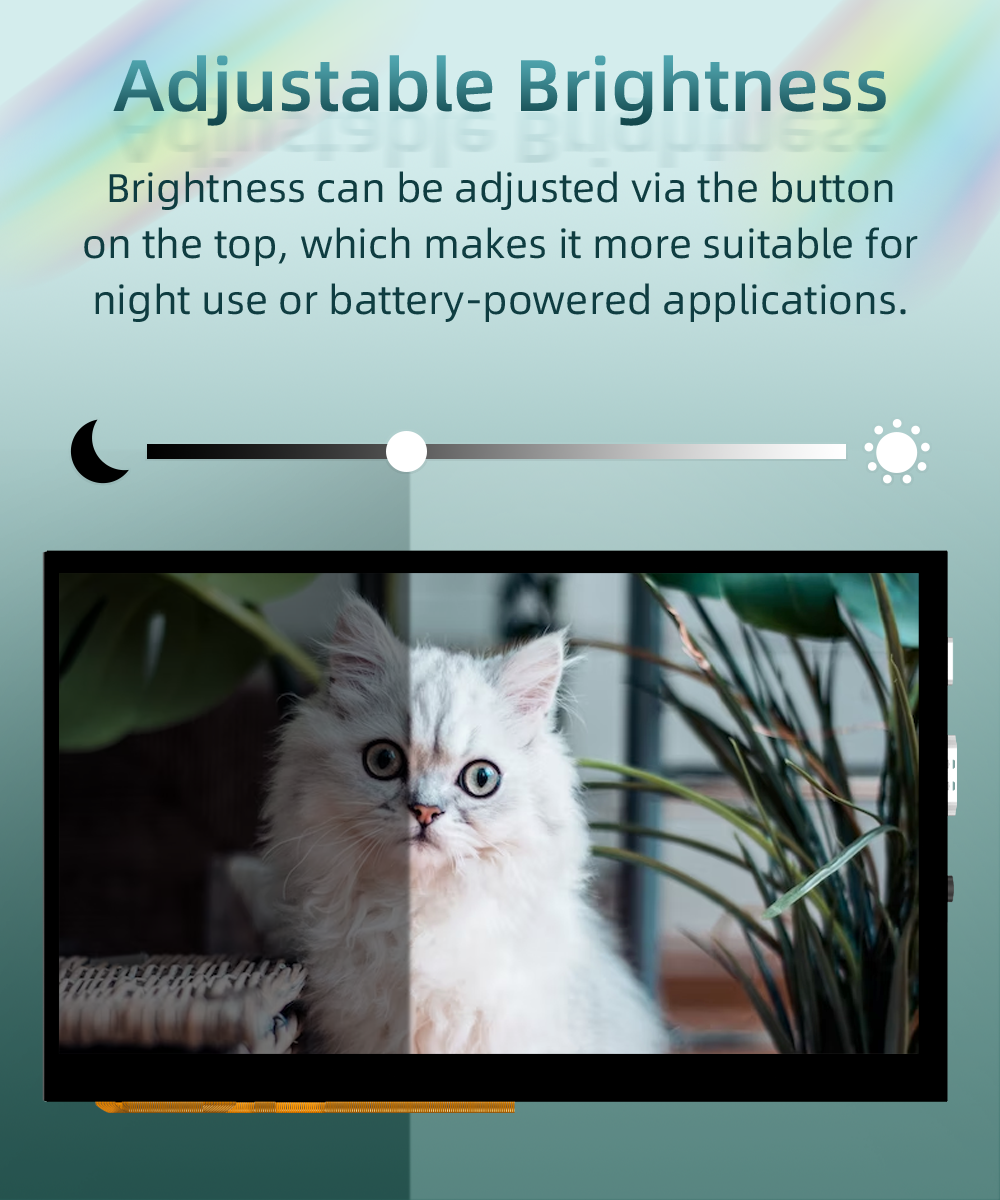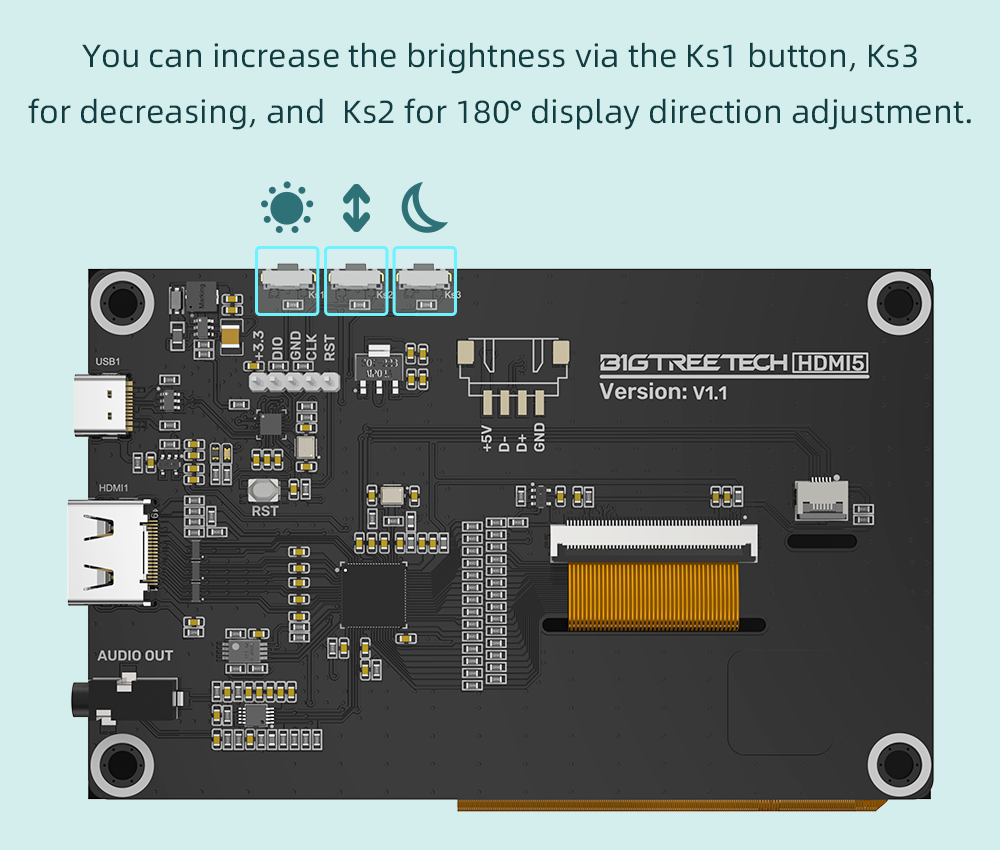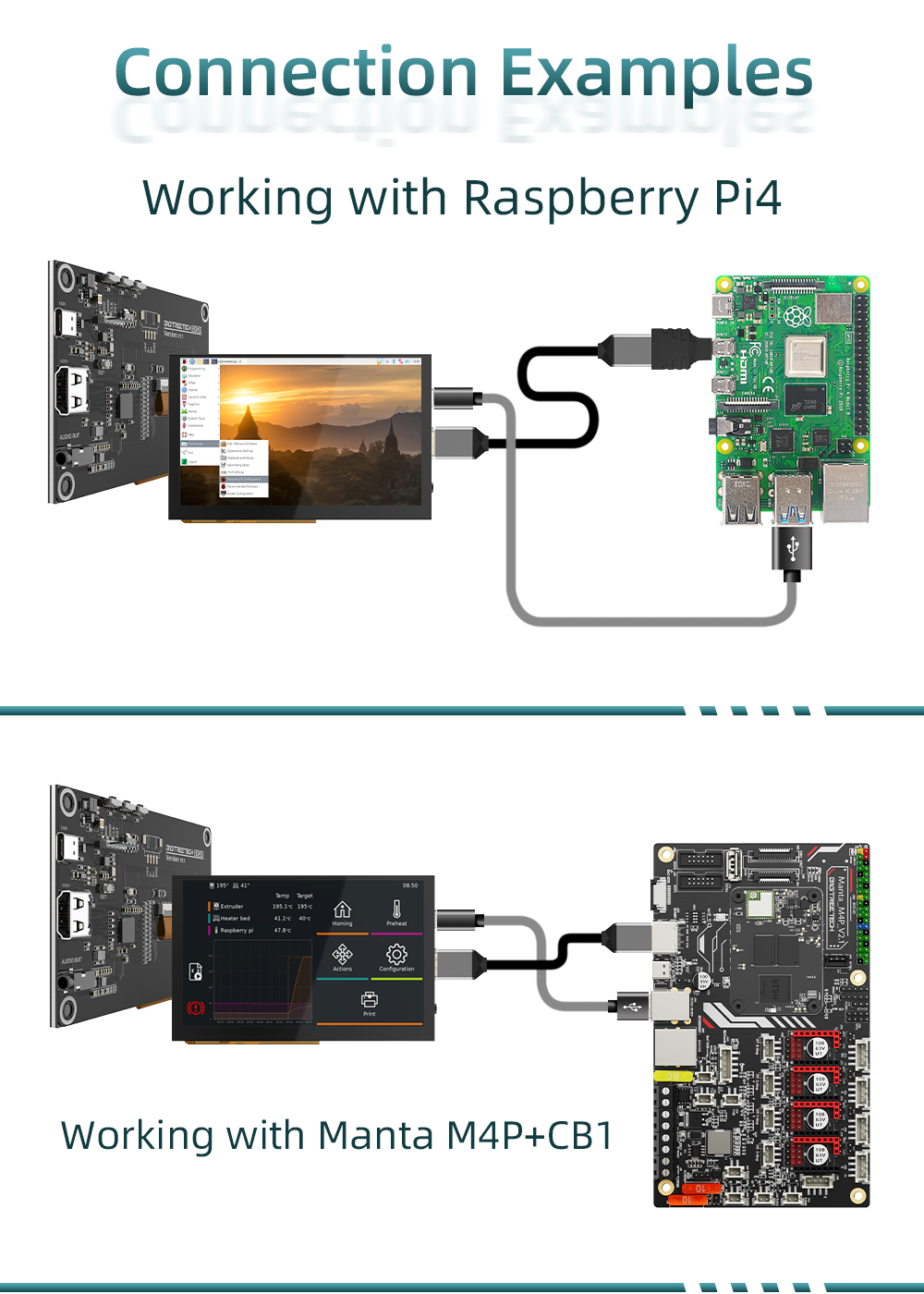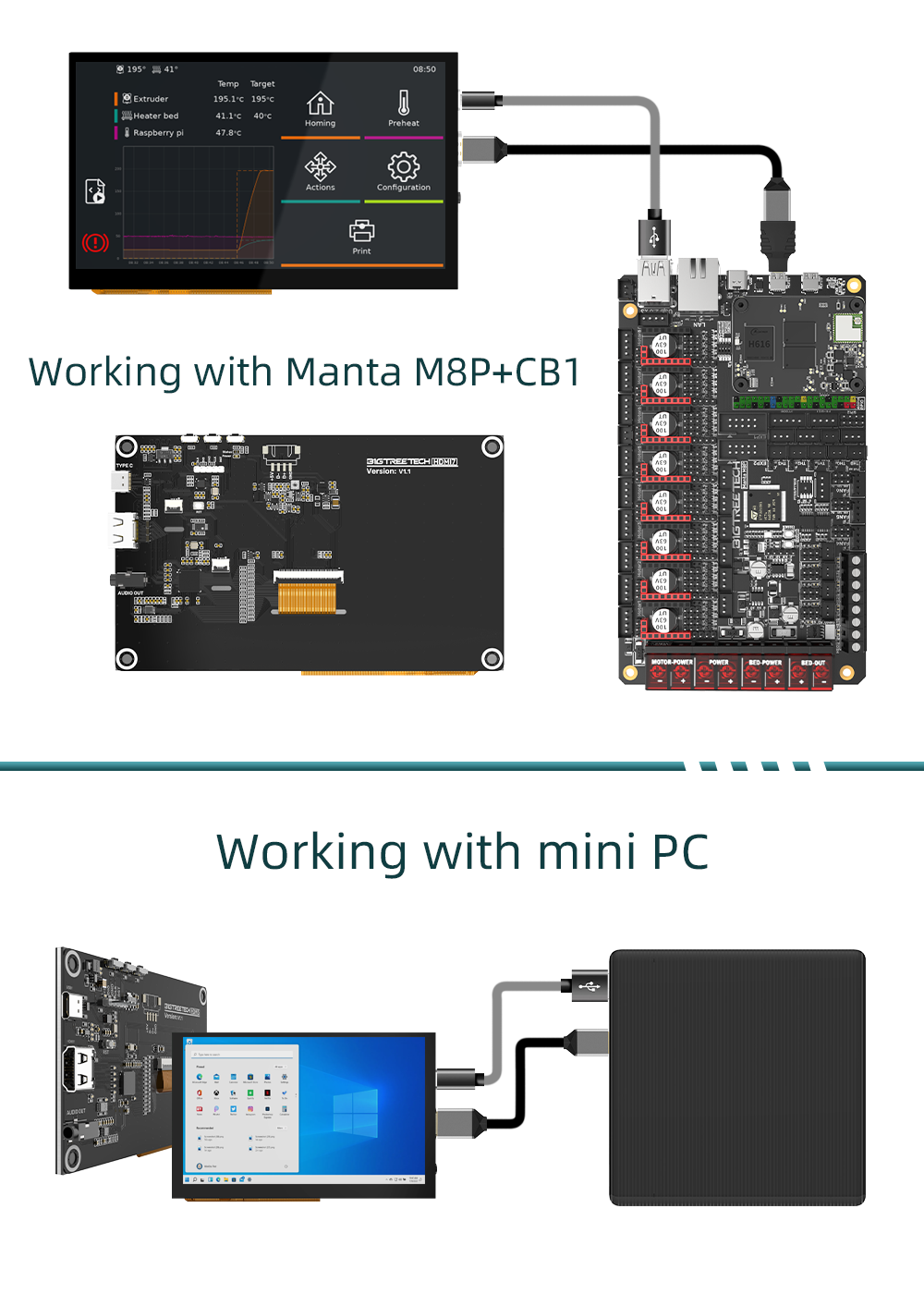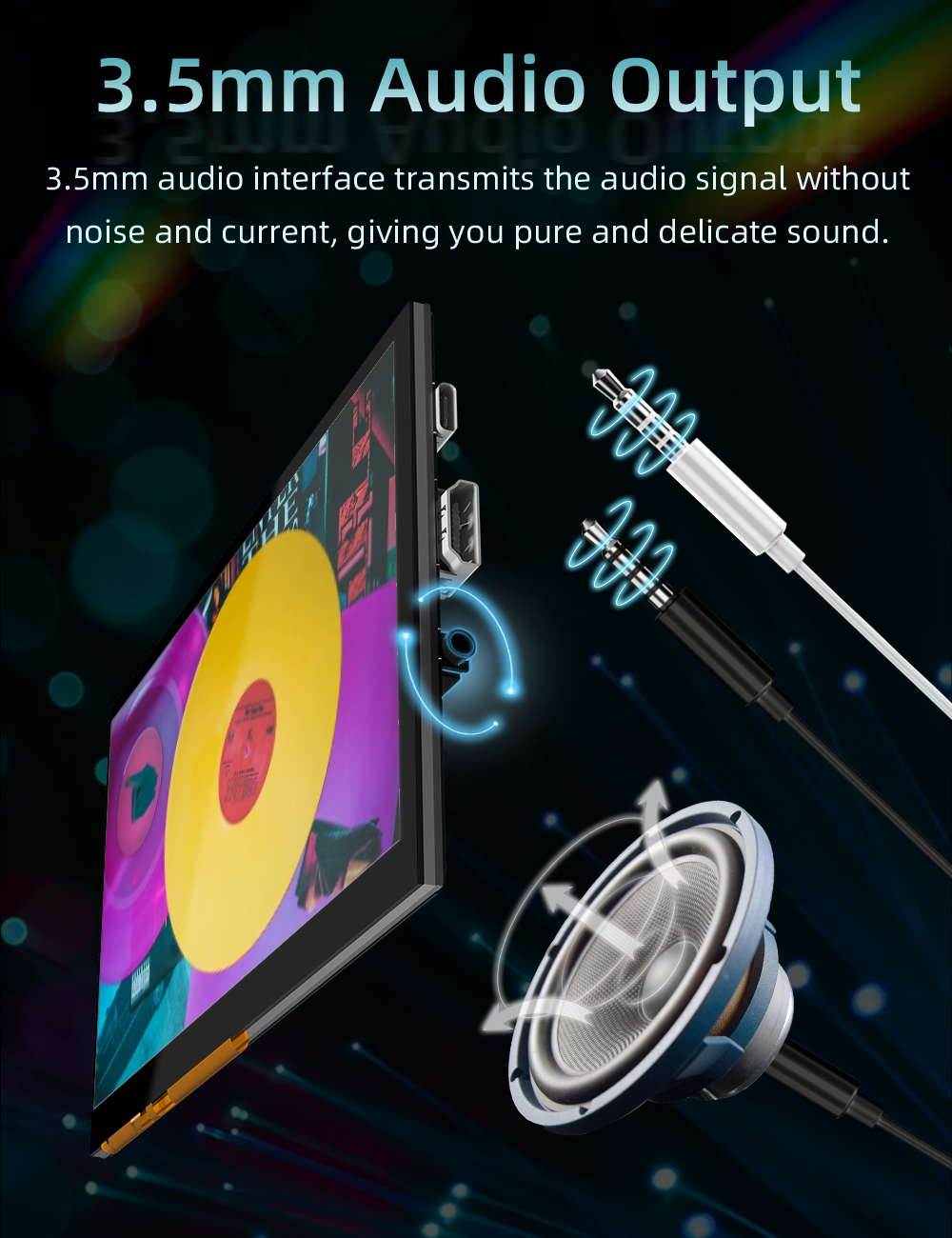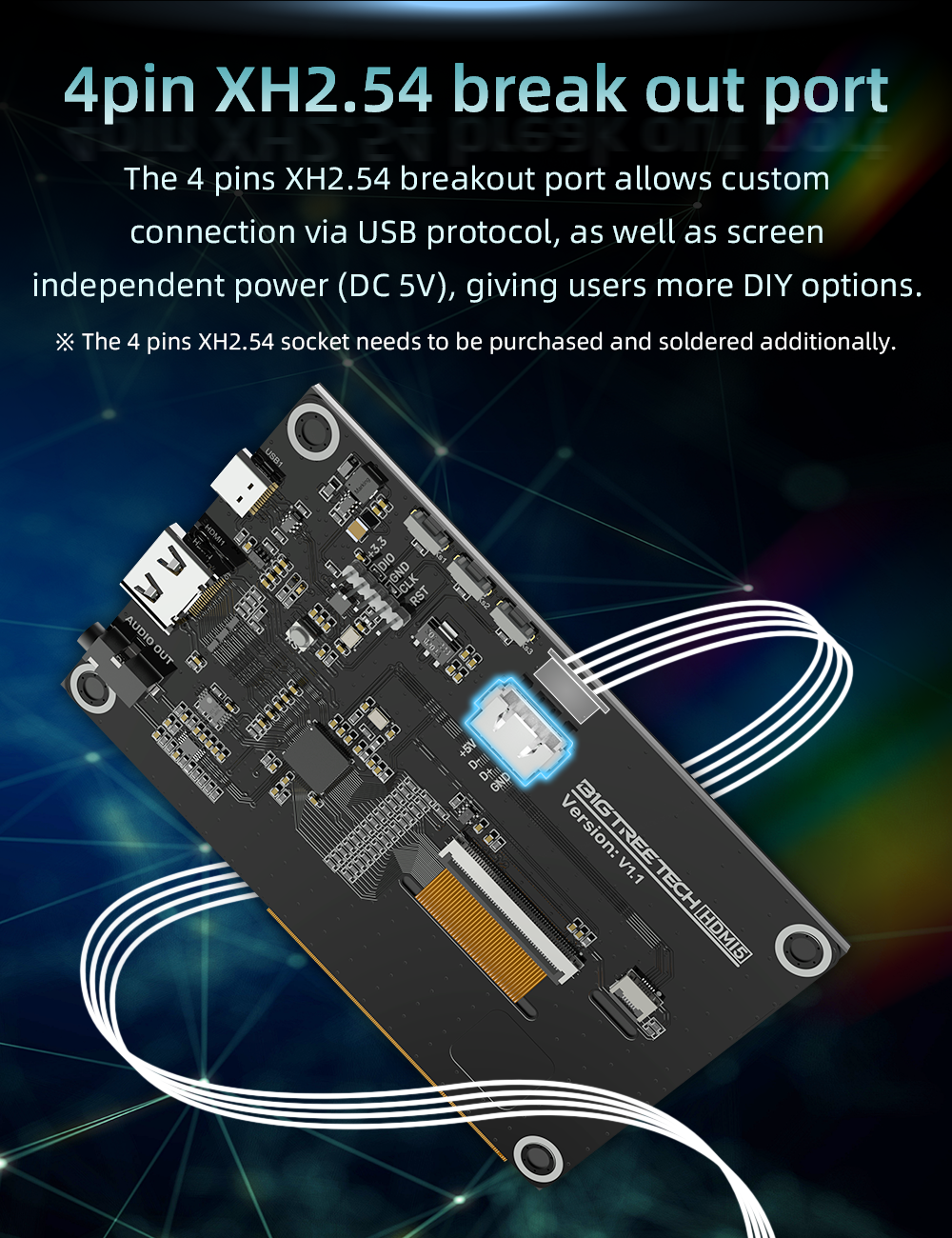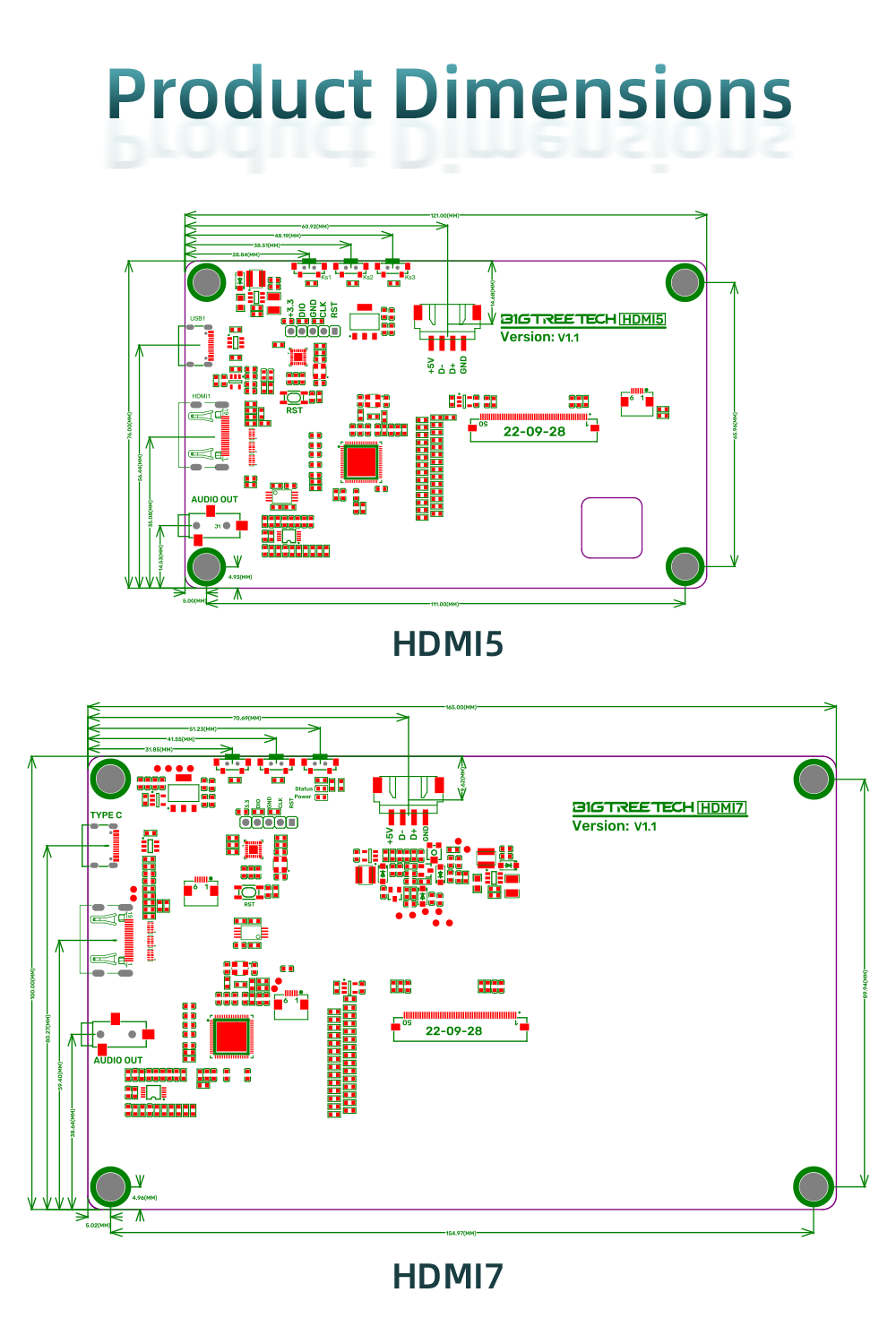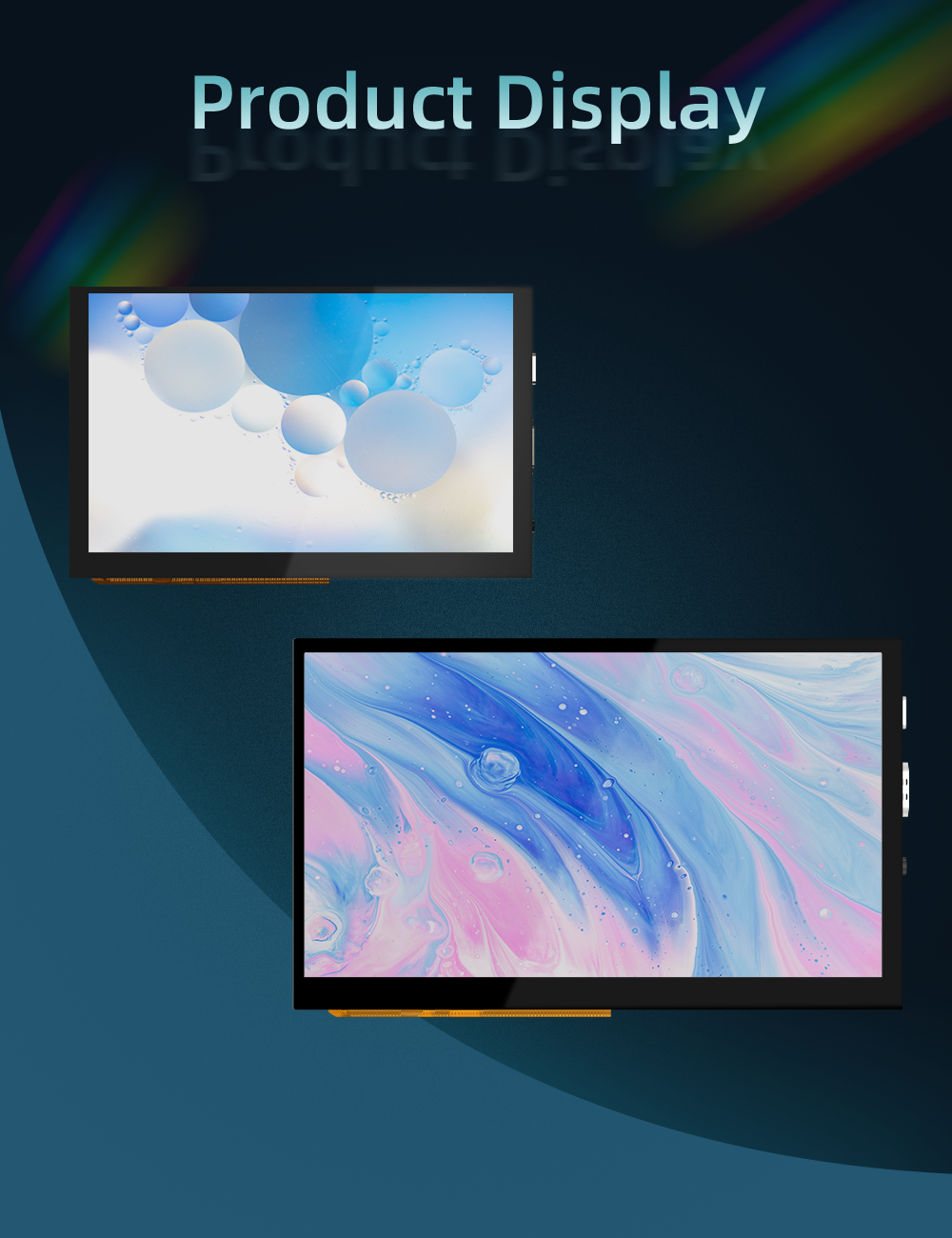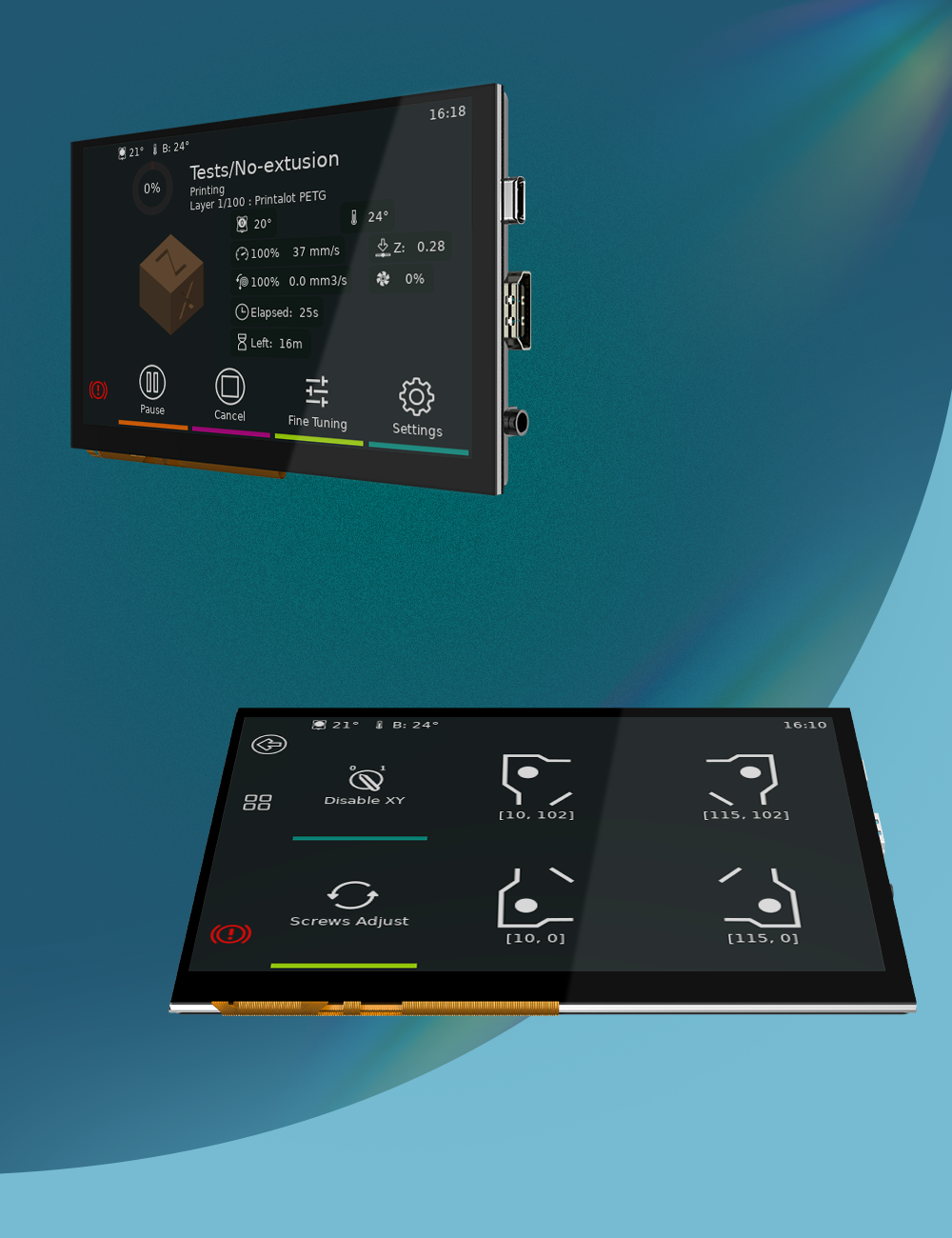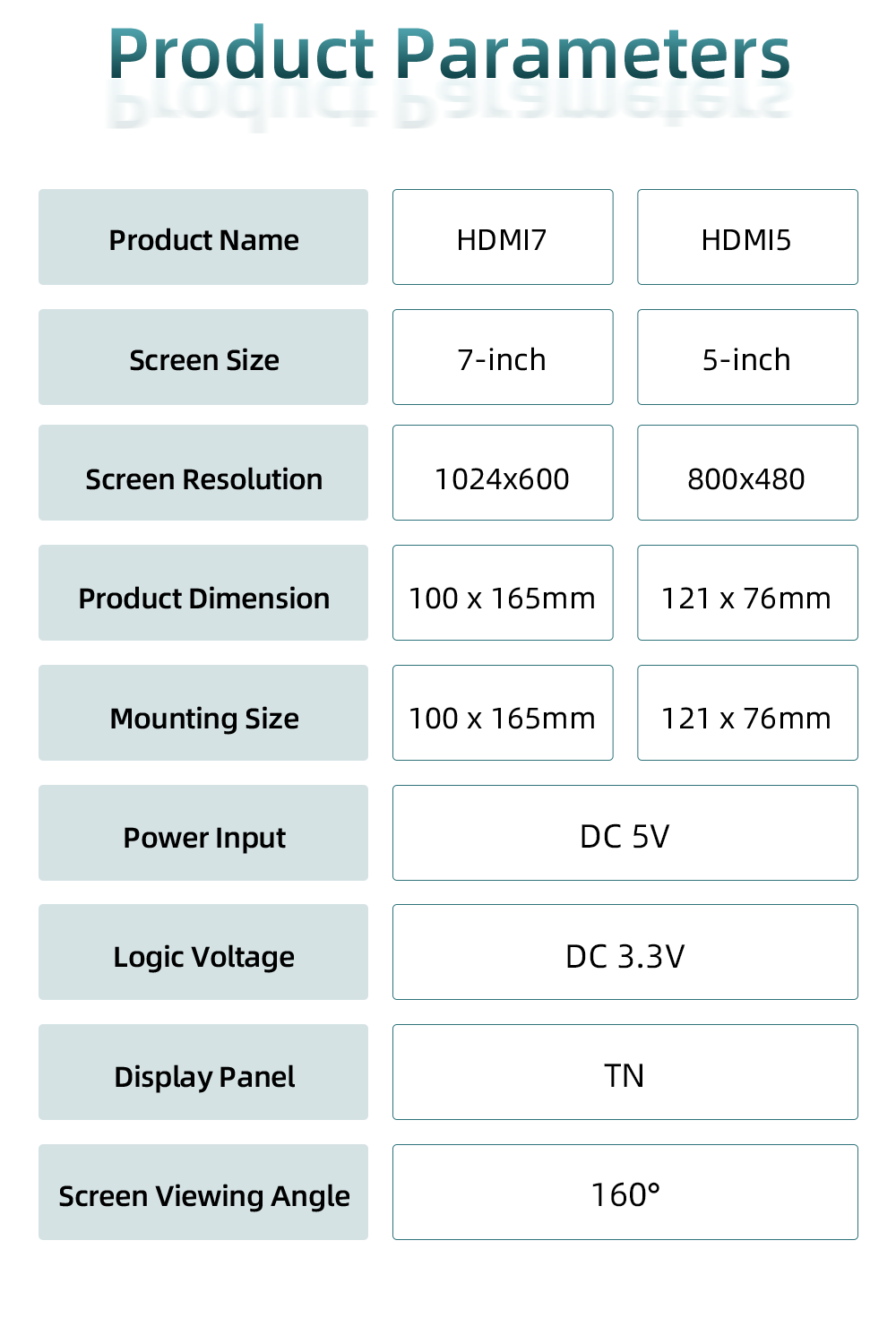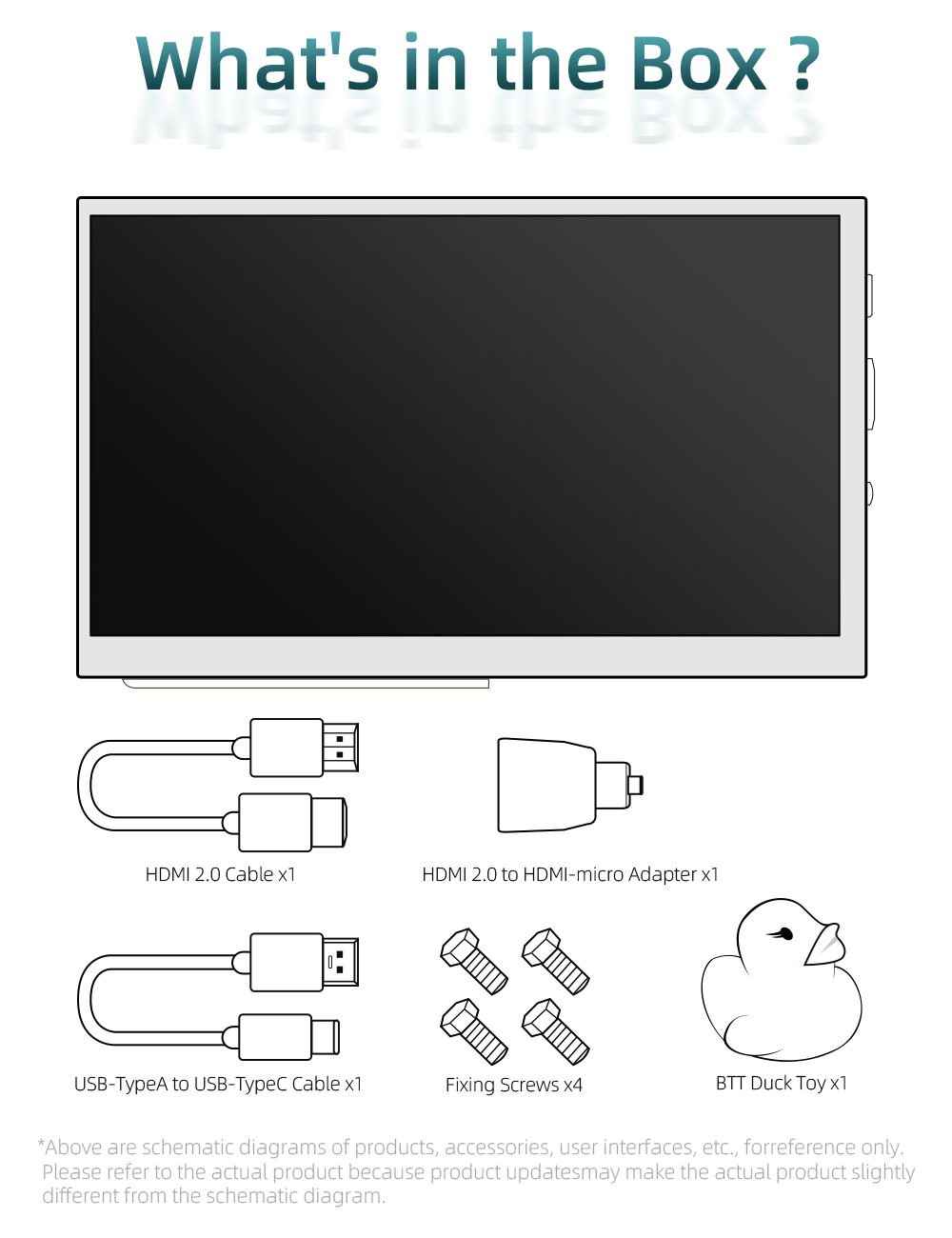 Superb transaction
Received the two HDMI5 screens in perfect shape and they are working flawlessly. Superb transaction, will be back for more 😀👍
Plug&Play good quality
works in every board with HDMI and one USB Port
Quality board with some caveats
Purchased the hdmi7 version and the board seems to be of good quality and has a nice solid feel. I do wish the side connectors for hdmi and usb were positioned differently so that cables could be better hidden like others have stated. I haven't integrated the board into my project yet so I haven't been able to test it directly, but I'm pretty confident from the build quality that there won't be an issue. My main complaint is that the xh2.54 breakout port is described as a feature and is shown on every image showing the back of the device. My device does not have the connector soldered (only bare pads). It seems a bit deceptive that the connector was omitted.
BIGTREETECH HDMI5 V1.1
I highly recommend this screen if you are looking into getting one.
An Incredible Product for the Price
I got this half to mess with and half to use to upgrade a printer but it found a home running a touchscreen GUI for a home automation project and I have been loving it. First of all while the USB power/touch and HDMI video could be seen as cumbersome, there are tons of SPI touchscreens for RPis and Arduinos, I love the versatility this affords me as I go through the development process, testing first on my windows PC, then a mini PC running linux, then the final deployment running a linux SBC in the final enclosure. I've been able to use this screen every step of the way. Honestly the only flaw is that the screen seems to be cutting off the last 5pixels or so? It sorta seems like the bezel slightly overlaps the screen and you miss a tiny bit of detail, which only really matters for things that are on the very bottom, or top I suppose of your screen. Not really an issue 99.9% of the time but I have noticed it. Not sure if this is a software issue or just a QA one but overall this thing has been great and is definitely a go to for any projects like this, maybe I'll even get around to putting one on a printer.