11.11 DOUBLE ELEVEN
Time is 11/01 - 11/11 PDT. The biggest discount event of this year.
3D Printer
Module Board
Filament
Upgrade Tool
Buy X Get Y
BLACK FRIDAY
Time is 11/20 - 11/26 PDT. The biggest discount event of this year.
Motherboard
Extruder
Driver Board
Screen
Buy X Get Y
Code is
Coming soon
Limited 300
Code is
Coming soon
Limited 100
Code is
Coming soon
Limited 100
Code is
Coming soon
Limited 50
Buy more than $1000, Get for Gifts
Over $1000, get a BL Touch
Over $1500, get a TFT35 E3 V3.0
Top 3 reward a MicroProbe
Wheel Game to Win Prizes
Free 3D printer, 90% off coupon...
Coming soon

Product Description:
The BIGTREETECH MANTA E3EZ V1.0 is a motherboard developed by the 3D printing team of Shenzhen Bigtree Technology Co. to help you to take your Ender 3 to the next level whether that means running Klipper or even Marlin with all of the latest features. This is our first motherboard that incorporates "Manta" technology (B2B connectors for the CB1 or CM4 modules) and "EZ" technology (the ability to use the latest EZ drivers). Simply plug in the CB1 core board and EZ drivers on the motherboard to upgrade your Ender 3 printer to run Klipper. Due to there being no need for an external raspberry pi the Manta series saves you messy cabling and results in a highly compact implementation.
Display Compatibility:
MANTA series motherboards support SPI and HDMI screens.
Files:
The Manta E3EZ is directly compatible with the Ender-3. Since we crammed so much into this board, we were unable to keep the size 100% compatible with other Ender machines and so minor, printable adapters are required. To check if your machine requires an adapter, see this link:
https://github.com/bigtreetech/Manta-E3EZ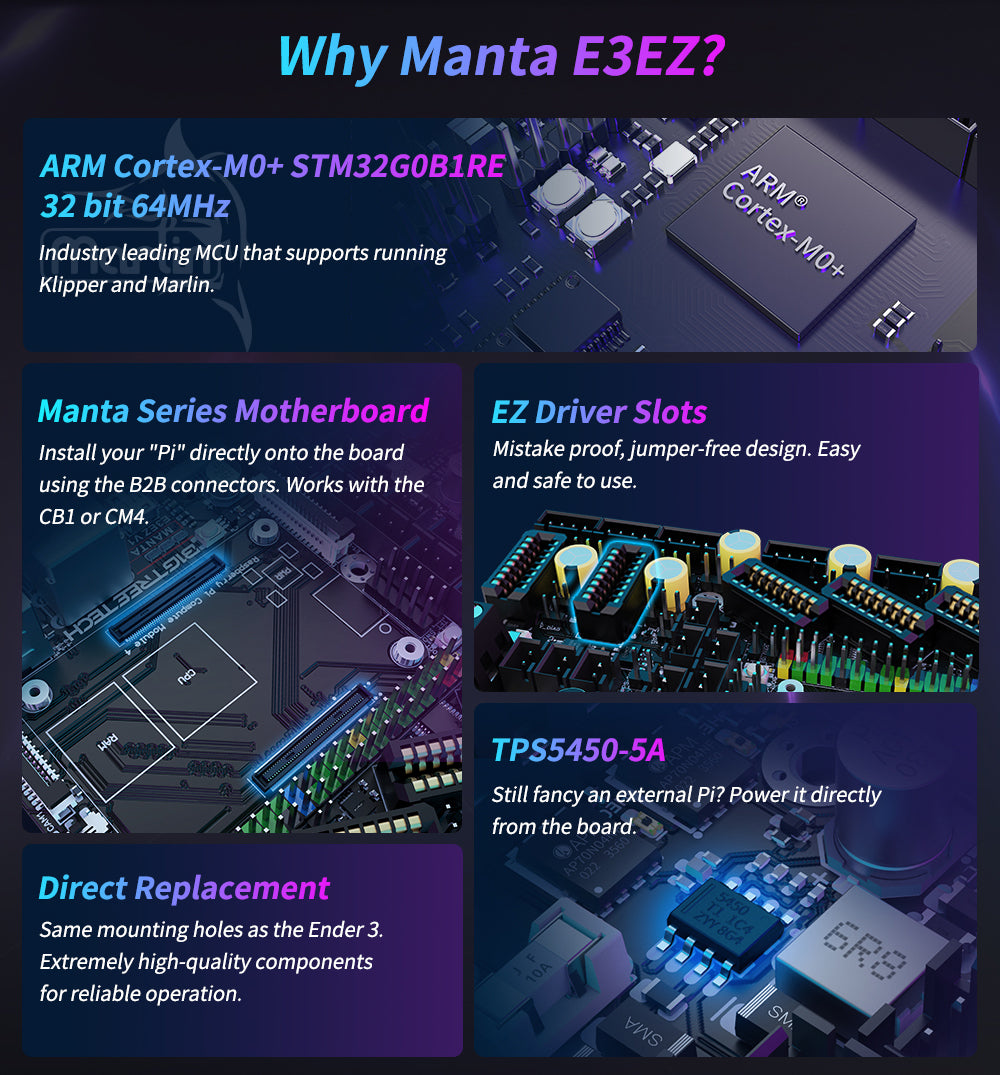 Great board but not perfect
Fits perfectly on my E5P wanted to buy them for my E3V2's but wait with that for a revision. As always BTT has super nice boards in their product line.
Hands down the best!
Great replacement for your stock Ender, or even a modded one. Super silent. Using Klipper with the CB1 attached makes it even better. Thank you Biqu. I look forward to purchasing more products soon!
5 drivers in a compact board
Having 5 drivers in a board only a little bigger than an ender 3 board is a amazing thing, but then you pile a cb1 on top and make it a all in one klipper machine what more could your really want besides a 4th controllable fan. As it is a a rocking unit to fit most use cases.
EASTER SEASON SALE
The biggest deal of 3D printers | Join the printing contest to win prizes | Surprising group buy price
Learn more